Tips to stay cool when the power goes out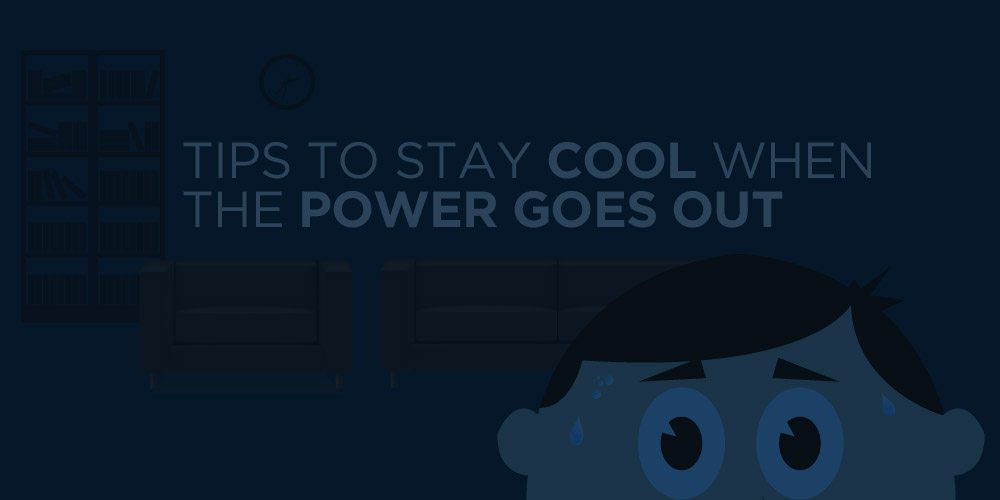 Summertime in California may not be as pleasant as some may think. Temperatures can easily reach well over the 100s. We find ourselves spending most of our free time inside, because staying cool becomes our main goal.
There are many things that can cause a power outage during the summer months. A car accident can take out a power line, an animal could cause a short, it could be from bad weather, or it could just be a schedule rolling-blackout. Whatever the cause, it's better to be prepared than to panic. So we provided some tips to help you stay cool if the power goes out.
Drink water
During blackouts in the summer you will perspire and lose water, so staying hydrated in this situation is very important for your safety. Your body needs water to keep cool, so drink plenty of water even if you don't feel thirsty. Dehydration can lead to heat-related illnesses such as heat cramps to heat exhaustion to a more serious condition like heat strokes. Heat strokes can result in death and requires immediate medical attention.
If your house uses an electric water pump, have enough water to last a couple of days. You should have at least a gallon of water a day for each person in your house. Depending on the cause you never know how long the power could be out, so it's always better to be prepared.
Dress cool
As your body temperature heats up, the layers tend to come off, but if the clothes must remain on wear lightweight, loose-fitting cotton clothing; if you're in the sun, wear light colors to reflect the sunlight. If you still aren't satisfied try wearing wet clothes, even on a hot day a breeze on wet clothing could provide some relief.
Submerge in water
Getting in the pool is a great way to stay cool on hot days. Most cities provide public summer pools, but if you don't have access to a pool you could sit in a cold bath or take a cool shower to help keep your body temperature down.
Sleep on the floor
As crazy as it may sound, sleeping on the floor does have some benefits. When the heat rises in the summer, the floor is actually cooler than most of the house, which makes it perfect when you are trying to sleep during a blackout. Also avoid sleeping upstairs. The lower levels of your house will remain cooler than the upper levels.
Use batteries
Invest in some battery-operated fans; they start as low as $7 for a unit. You would be glad you did. Any sort of breeze that doesn't require you to move will help keep you cool.
As much as an inconvenience a power outage may be, using the above tips can help you stay cool and healthy as possible during a blackout.